Список актуальных групп Wacken 2016
, , , , , , , , , , , , , , , ,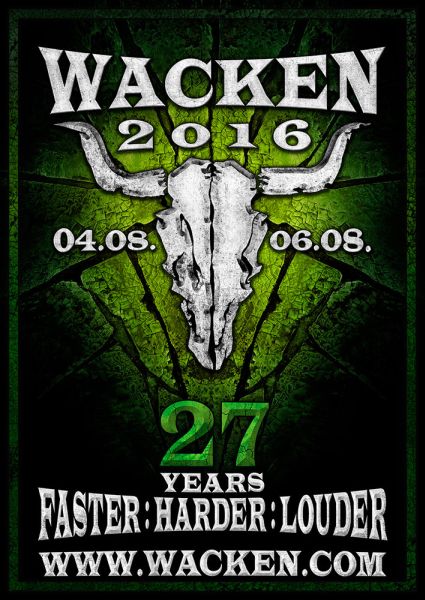 Близится фестивальный сезон, и мы спешим проинформировать вас о последних изменениях в лайн-апах самых крцпных мероприятий грядущего лета. Самый знаменитый немецкий фестиваль тяжелой музыки, проходящий под открытым небом, берущий своё начало в далёком 1990-году, в этот раз будет радовать поклонников "железа" с 04 по 06 августа 2016 г.

На фестивале выступят:

1349
9mm
Alcest
Arch Enemy
Aura Noir
Axel Rudi Pell
Bembers
Blechblosn
Bliksem
Blind Guardian
Blue Oyster Cult
Bodhaktan
Bon Scott
Borknagar
Bullet For My Valentine
Bury Tomorrow
Caliban
Callejon
Clutch
Cripper
Dagoba
Deez Nuts
Der Weg einer Freiheit
Devil Driver
Die Krupps
Dorfrocker
Dragonforce
Dritte Wahl
Drone
Eat The Turnbuckle
Einherjer
Ektomorf
Eluveitie
Elvenking
Entombed A.D.
Equilibrium
Eric Fish and Friends
Eskimo Callboy
Fateful Finality
Feuerschwanz
Foreigner
Freiwächter
Girlschool
GloryHammer
Hämatom
Henry Rollins - Spoken Word
Ihsahn
Immolation
Insidious Disease
Iron Maiden
Jesus Chrüsler Supercar
John Coffey
Kampfar
King Dude
Krayenzeit
Lamb of God
Legion Of The Damned
Loudness
Marduk
Metal Church
Michael Monroe
Ministry
Monstagon
Monuments
Mr. Hurley und die Pulveraffen
Myrkur
Nasty
Negative Approach
Orden Ogan
Orphaned Land
Pampatut
Panzerballett
Parkway Drive
Pyogenesis
Red Fang
Red Hot Chili Pipers
Reliquiae
Saxon
Sebastien
Sector
Serious Black
Serum 114
Snowy Shaw
Steel Panther
Sub Dub Micromachine
Symphony X
Tarja
Testament
The Black Dahlia Murder
The Dead Daisies
The Goddamn Gallows
The Haunted
The Other
The Vintage Caravan
Therapy?
Therion
Torfrock
Triptykon
Tsjuder
tuXedoo
Twisted Sister
Unisonic
Vader
Versengold
Vogelfrey
Watch Out Stampede
While She Sleeps
Whitesnake

Подробная информация по приобретению билетов - на официальном сайте фестиваля
Обратите внимание, что билеты УЖЕ раскуплены, но в случае, если вы приобретаете билет через одну из фирм, организующих поездки на фестиваль, он всё ещё может вам достаться. Подробности тут http://www.wacken.com/en/shop/tickets/


Логотип фестиваля - бычий череп.
Девиз фестиваля - Louder than Hell!

Welcome Metalheads!
Комментарии посетителей к новости (0)
комментариев нет


Добавлять отзывы и комментарии могут только зарегистрированные пользователи