In Extremo is one of the very first German metal bands who successfully combined heavy sound with folk instruments (harpes, bagpipes, etc). The first two records ("Gold" [1997] and "Hameln"[1998]) included mostly instrumental and non-metal tracks. In Extremo's first metal album, "Weckt Die Toten!" saw the light of day in 1998. In a quite short time it was followed by "classical" In Extremo albums "Verehrt Und Angespien" (1999) and "Sunder Ohne Zugel" (2001). After another two years of waiting was released "7" - the album that received different opinions from both critics and fans. The long-awaited «Mein Rasend Herz» was released in 2005. Its "sea" theme resulted in some changes in the band's image and performances. To check this out you should watch DVD "Raue Spree" released with the same-titled live album in 2006. In December 2006 were released 2CDs of "Kein Blick Zuruck": CD with the best-of and two previously unreleased songs, and CD with covers of In Extremo songs performed by other bands and artists.
The famous German band visited Russia for the first time in 2006 – the show took place on April 2 in "Tochka", Moscow. In February it was the second coming of In Extremo to Russia – this time the gig was in "B1 Maximum", Moscow.

HeavyMusic got in touch with In Extremo in order to learn more about ttheir impressions from Russian shows, to ask about latest releases and future plans. Our questions were answered by Die Lutter, bass player of In Extremo:

Your album "7", which was released in 2003, is a bit different than your previous records. And "Mein Rasend Herz", in my opinion, sounds closer to "Sunder ohne Zugel". What were the reasons for this come-back in sound?
I think every new album we make has to be different! If you are a musician you have to look for new influences. Actually we don't look back and we don't try to copy the sounds of our old records. We had no plans to make any come back sounds, you know?




Speaking about "Mein Rasend Herz", the "sea" theme seems to influence strongly the band's image and performances (as far as one who visited your gigs or watched "Raue See" DVD can see that). What inspired you to create this sea concept? Why have In Extremo left the ground and stepped on a ship's deck?
"The Sea" is a big theme for all artists. It means freedom, you can explore the whole world, it means yearning. The most of our band members come from Eastern Germany, may that's why these theme is so important for us, I don't know.

"Nur Ihr Allein" video is very interesting by many aspects. Are these Japanese guys and girls that we can see in the video actors, or were they just passing by, and so they got into it?
No, they didn't passed by, they where supernumerarys. If you make a video there is a very strong time schedule and you cannot wait for some Japanese they passing by :)

Another one question about "Nur Ihr Allein" clip: at the end of the video the tourists sing karaoke. Haven't you thought of the idea to record some kind of "karaoke" album of your songs (as Helloween and Gamma Ray have done) or to put some karaoke songs on your releases as bonus tracks?
No, Karaoke is not a part of our culture! I lived for 3 years in Malaysia and I have a lot of Chinese friends there. They love it, believe me.

The song "Horizont" was sang it in duet. And, as far as I understand, the same girl has appeared in the video on this song. Who is she? Why did you choose personally her to sing this song?
"Horizont" was sung by Martha from the German Band "Die Happy", the girl in the video is a young actor from our relationship. The lyrics actually about a suicide and we were looking for a female part because mostly the reason for a suicide is an unlucky love story.

The song "Singapur" is quite unusual and amazing in the same time! How did you come to the idea to combine oriental motives with bagpipes?
We're always looking forward to get new influences. And we love especially music from the Orient, from Eastern Europe and from Asia. The first melody from "Singapur" is a theme from an old Chinese children rhyme. For Europeans it sounds typical Chinese, but actually in Chinese music melodies like that are very unusual :)

In December 2006 was released "Kein Blick Zurück". I have enjoyed the flashcard of the effort and must say that it is totally amazing!!! This release includes two CDs. The first one is a best-of your songs including new tracks "Kein Sturn halt uns auf" and "Alte-Liebe". Were they written special for this release, or they will appear on your next releases?
We're not sure!




The second CD in limited edition is a cover-CD. Who has came up with the idea to do such CD? How did you choose the bands and artist to do it, and songs for them to cover?
After 10 years of In Extremo we thought about a Best Of album. But we also thought about what kind of record we would buy from our favorite Band? Then we came up with this idea… but we don't asked the bands for cover some old In Extremo songs, all of these bands are friends of us.

Music of In Extremo is connected not only with medieval or even elder music, but with literature too - if I'm not mistaken, "Merseburger Zauberspuche" belong to the most important German literature monuments. Was your song with the same name based on it? Have some other medieval literature works and books inspired In Extremo's music and lyrics?
The Merseburger Zaubersprüche are not most important for the German literature, actually it isn't really literature, it's more a short poem. They are only important because they are one of the oldest documents in an old German language. We used these lyrics for our songs, that's true. Some of our band members are very interested in literature, but it's more an influence like a lot of other things, we're not inspired from a special book or something like that.




Do you like any acoustic medieval – and medieval folk bands, such as Sava, Faun, Estampie, Wolfenmond?
Okay, I'm the bass player and actually I'm not very interested in medieval folk music, especially in Germany. I think the scene here is not really creative, most of the bands have the same influences, the same models, they use the same instruments like all the others and, by the way, the have the same ideas! For me it is too stupid. For me In Extremo is more a World Music Band then a German Medieval Folk Band…

Do you use some rare and unique instruments in your music?
We use a lot of rare and unique stuff like the Nyckelhapa, a special harp, special bagpipes in different tunings and a lot of different percussion instruments.

What artists have influenced and inspired In Extremo's sound at the very beginning?
Actually I cannot say because we're 7 band members. But we all love bands like The Tea Party, Muse, Worldparty… bands they've found her own and typical style!

Some metal styles based on ancient culture and history, such as Viking metal and pagan metal first appeared several years ago and became rather popular. What do you think about these styles and the bands playing in this direction? Are they followers of folk, or do they have their own different way and have a little in common with folk-metal?
I don't know, really! I don't know what Pagan Metal should be :) To give them names is the part of the journalists, not of the musicians! I only know good music and bored music :) …

Unfortunately I haven't managed to visit both your Russian gigs. But people say that they were amazing!!! What can you tell about it? Did you like these performances? What kind of memories have these gigs and the country left?
What can I say? You have to see the band, don't ask the musicians about herself (you can't expect an uncritical answer). We only have the problem if we come over with airplane we can't show our whole show. And yes, we have a lot of good memories…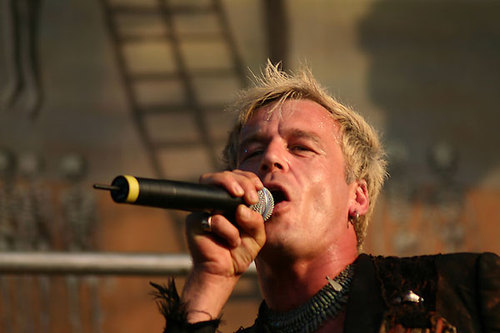 Are there any possibilities that you visit our country again soon, and when could we expect this event?
We wanna come back in 2008!




Do the members of In Extremo have some side-projects?
No, we haven't. We have no time for side projects…

Can you tell our readers something about your future plans? Do you plan to write and record material for the next album and release it in near future?
We have a lot of material for a new record, next week we wanna go to our studio and start with the pre production. We hope we can publish our new CD in May 2008 in Germany.

What is the most funny thing that has happened to the band?
I wrote a book about our band history with a lot of our funniest stories. But for me it's not possible only to tell about one of them. The book has more than 200 pages :)

And in conclusion some words for your Russian fans:
We're really hope come back in 2008. And may we can bring up our whole equipment…

We also asked Lutter about his favorite albums:
Muse - Origin Of Symmetry
The Tea Party - TRIPtych

The photos for the layout of the interview were taken from "Mein Rasend Herz" promo-materials. In Extremo's official site is www.inextremo.de

Part of the questions was prepared by Lady Midwinter